Wednesday, August 1, 2018, 8:30AM
by
Aldenice
under Dog Nutrition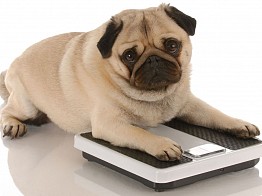 The Biggest Health Treat To Your Dog
When pet-insurance provider Petplan took a look at their data, they found their most frequently claimed conditions have one thing in common: obesity. And it's a big issue. "When you consider that over half of the nation's dogs are now overweight or obese, it literally is a growing problem," says Dr. Ernie Ward, a Petplan Veterinary Advisory Board member and founder of the Association for Pet Obesity Prevention.
The following 7 most common causes of veterinary claims are all exacerbated or caused by obesity. And if you needed further incentive to keep your dog trim, we've included the average cost of the vet visits theses conditions necessitate. We want to help you keep your dog healthy and slim and your wallet fat!
1. Tummy troubles:
Let's face it—pudgy pets eat more than they should. And overeating can easily lead to vomiting and diarrhea, Petplan's most claimed conditions year after year. They see an average of 900 claims every month just for tummy troubles! The cost for relief averages $850.
2. The Big C:
There have been some indications that certain types of cancer are more common in overweight or obese pets. The average vet bill for cancer? $2,033.
3. A gimpy gait:
Lameness, or general limping, is often caused by arthritis, and extra pounds mean extra stress on dogs' joints—and your wallet. The average cost to treat lameness is $966.
4. Not-so bee's knees:
Dogs who pack on the pudge are also at a greater risk for cranial cruciate ligament (CCL) injuries caused by added joint stress and weak muscles. CCL injuries are pricey, costing an average of $3,480 to repair.
5. On the go:
Several things can cause a urinary tract infection in dogs, but obese animals may be more at risk because they can't clean those hard-to-reach places. The average cost to treat UTIs? $590!
6. Matters of the heart:
Obesity usually comes with high blood pressure, poor organ function and low levels of activity, all things that contribute to cardiac disease and an accompanying average vet bill of $1,232.
7. Back attack:
The long and lows—think Dachshunds and Basset Hounds—are particularly prone to intervertebral disc disease. Added weight can increase their chances of developing the disease—and of you being handed a $2,014 vet bill.
The good news is, unlike many of these conditions, pet obesity is 100% preventable and curable. "In addition to daily exercise, swap fatty treats for lower-calorie options, or better yet opt for praise and playtime instead of snacks," says Dr. Ward. "And know your dog's calorie count—ask your vet how many calories your dog needs each day, and stick to that number." Last but not least, schedule daily playtime! A good rule of thumb is 30 minutes of play will keep the pounds away so get out and get active with your dog to avoid the extra "fluff!"
This article appears in: https://moderndogmagazine.com/articles/biggest-health-threat-your-dog/103810
By: Unknown author
Photo: https://www.petbucket.com/blog/63842/chubby-dog---making-changes-to-improve-your-dogs-health.html

Grateful Companion Clients

Andre's and Joan's Grateful Companion Pet Care are AWESOME . I highly recommend them. I use the daily for walks for my Maltipoo . Andre is very professional and great
...
Read More »