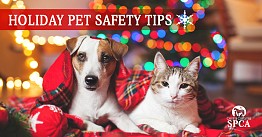 Christmas tree
It's extremely important to have our little ones safe, a Christmas tree can be a dangerous and curious object for the little ones. As we all know cats are climb lovers, dogs are curious as they can be.  For that reason it's very important to have your Christmas tree well secured to avoid falling on top of our little ones.
Ribbons
When it comes to kitties and small puppies, it's extremely important to have ribbons and small strings away from our pets as they are known for chook hazards if swallowed.
Skip the extra treats
Chocolate, alcohol & fatty foods can all pose a risk if ingested. Remember to keep as the human goodies away from our furry ones.